Hearing Products
You will find all hearing aid styles at the Hearing Wellness Centre. We carry the latest in hearing technology and are experts with matching your hearing needs to the styles and features available.
Hearing Technology
Modern Solutions For All Types of Hearing Loss
Thanks to advances in technology, hearing products are designed to be more compatible with our lives than ever before. In addition to hearing aids, there are a number of products that make living and communicating with hearing loss easier to manage, so you never miss a beat.
Hearing aid technology continues to evolve every year. Today, there are plenty of options on the market; all with different features and benefits at varying price points. After your hearing evaluation, our providers will help match you to the best device for your hearing loss, lifestyle and budget.
More on Hearing Aid Technology
From extended wear to rechargeable devices, the hearing aid style that's best for you depends on your hearing needs, your lifestyle, cosmetic concerns and any limitations with your vision or dexterity.
More on Hearing Aid Styles
Your hearing aids are powered by zinc-air replaceable or lithium ion rechargeable batteries. During your hearing aid fitting, the specialists at the Hearing Wellness Centre will show you how to change or recharge your batteries.
More on Hearing Aid Batteries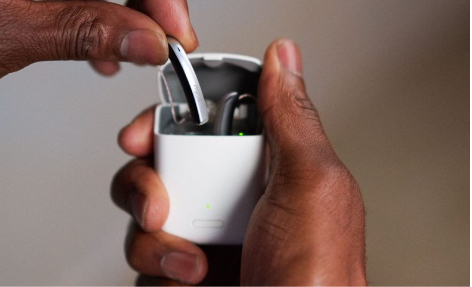 Hearing Product Guide
Curious About Hearing Technology, but Not Sure Where to Start?
With so many styles and options, it can be difficult to know which products will suit your needs. Our Consumer Guide to Hearing Aids provides an in-depth breakdown of the different types of hearing devices, as well as the technology available for all types of hearing loss.
Hearing Aid Manufacturers
Hearing Products Created by the Best in the Industry
When it comes to hearing loss, you need a device you can rely on to perform its best. That's why we carry products from manufacturers with a proven track record of exceptional quality. No matter your budget, lifestyle or type of hearing loss, we have a product to meet your needs.
Hearing Protection
Make Protection a Priority
Protecting your ears from noise damage is essential to healthy hearing. We carry a wide variety of options equipped with the latest features and customizations, so you can find the best fit for your lifestyle.
Custom earmolds and earplugs provide the best type of protection for both ears. Custom earmolds are shaped to match a patient's ear, so it is unique for each person. With products like custom earplugs, it ensures they work to their fullest potential.
More on Custom Earmolds and Earplugs
Exposure to noise is the most common cause of sensorineural hearing loss. Custom hearing protection from the Hearing Wellness Centre fits comfortably and protects against damaging decibels.
More on Hearing Protection